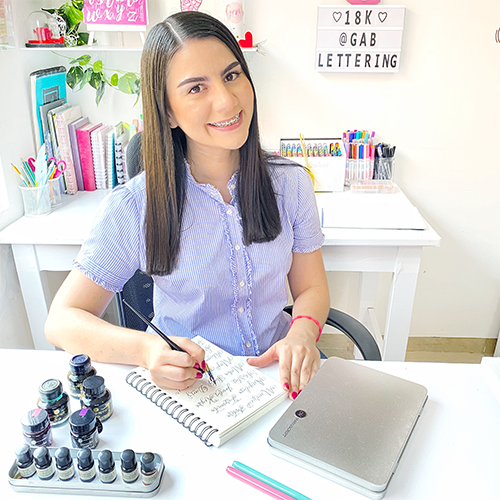 What is your background and when did your passion for calligraphy begin?
My professional career is in territorial planning. It does have a link to art but my love for art started when I was in school in a Plastic Arts Class. I also enjoyed Arts and Crafts Classes where I learned many skills including painting. My passion for calligraphy started a year ago when I finally encouraged myself to practice and upload my creations onto social media.
Who / Where do you take your inspiration from?
It's amazing how much inspiration you can find on social networks including Pinterest, YouTube, Instagram and Facebook. At the beginning of my journey I imitated many illustrations in order to practice and see how they fit with the style I was trying to create. Slowly, I started creating my own designs and styles but if I had to mention someone who inspires me, I would certainly choose many accounts and wouldnt be able to finish this question! I feel that choosing only one would make me feel bad because there are really many artists who have inspired me and continue to do so.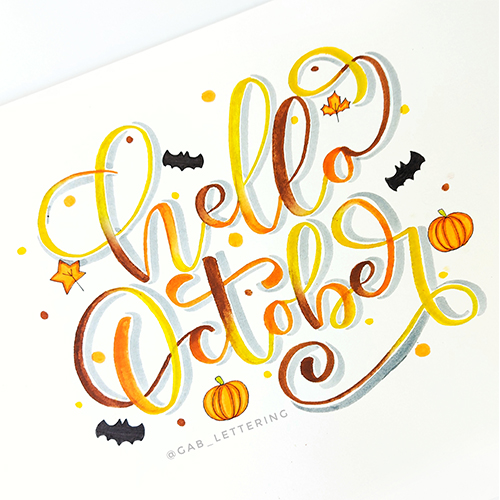 What, in your opinion, is the hardest and the most rewarding parts of working in a creative industry?
I think the most difficult part of being in the art industry is when you feel that your art is not valued as it should be. I include myself because I was one of those people, because I feel that it's value is driven by education. When someone says that they want to be an artist it is a risky profession as it is difficult to earn a full time living from this profession so a lot of people choose to study for an industry that has a better financial future. Eventually a lot of artist then end up practicing art as a hobby, however there are a lot of lucky artists who make art their profession. 
However, whether you practice as a hobby or a profession, the most gratifying thing is to find so many people so creative, humble and sociable, it is a very loving community, that makes you feel special and encourages your desire to continue.
Do you have a favourite style?
I don't think I have a favourite style! I feel like I'm too versatile and I like too many styles like calligraphy, lettering, drawings, watercolors, etc.
What are the most exciting projects you have worked on and what are you working on at the moment?
Definitely my most interesting projects are the workshops and lettering classes I teach, I love being able to teach everything I know, it is incredible to meet more artists interested in this beautiful art!
I am currently working on my first lettering book and a lettering kit which is very exciting! 
How does your work relate to your everyday life?
I currently do not have a job with my professional career since the pandemic started. So I have taken this time to dedicate myself to learning, practicing and creating all the things that I love the most.
What are your favourite tools to use?
My favorite materials are brush pens, watercolours and fineliners. I think since I do a little bit of everything I like many tools!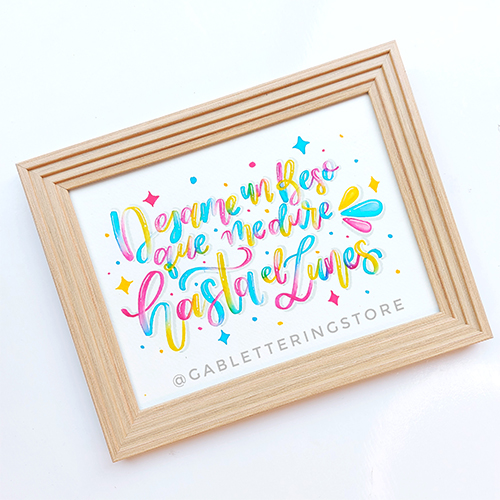 What would your advice be to people new to the creative industry and any tips on how to get started?
My advice is that you should never lose the desire to have fun and do what makes you happy, take advantage of the fact that the community is very friendly to learn new things, and never compare yourself to anyone. All the artists are different, don't worry if you don't find a unique style or if you think you should only do one thing, I am happy to be able to practice several styles. At the beginning I too was frustrated because I saw that other artists had something already defined, if you want to sell as an artist you have to consult with a professional but if you want making art without the need to sell is also good. Please do not stress if sometimes there is no inspiration and things go wrong, there will always be days that you can create many things and days that you do not so on those days just relax and enjoy doing something different.
My advice to start would be that do not be afraid, start by creating an account on instagram and upload your creations, you will see that slowly yopur followers will increase and will appreciate your work. It does not matter if you do not know much, just remember that "Practice does to the teacher". ❤️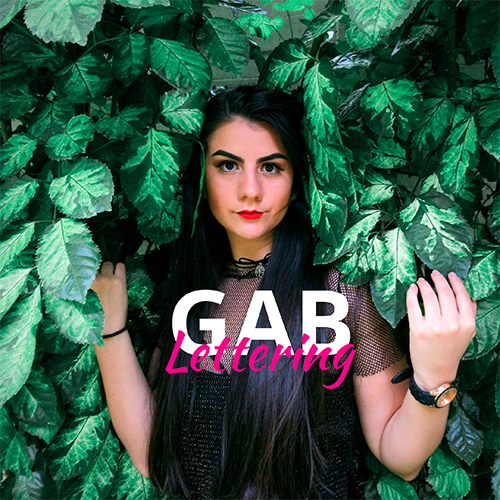 To see more of Gabriela's work you can follow her on Instagram and remember to follow @manuscriptpenco on Social Media where we will be showcasing Gab's work throughout the month.