VISCONTI
Visconti are a global giant in the world of pens. With a long standing tradition of innovation, Visconti delight pen enthusiasts year after year with an array of newness to add to the Visconti collection. 2023 is no exception! The Visconti Lotus-Garden is a perfect inspiration for this year's Homo Sapiens Demonstrator collection launching this January with more product launches to come.
Visconti manufactures their revered pens in Florence. A city rich in history and known the world over as a place of art and culture. Visconti's pens, leather and accessories celebrate Florentine culture and reflect the fashion and history of Italy in their luxurious pen models.
"Our collections are born out of the creativity and experience of our design team and master artisans. They take their inspiration from art, nature and life to create timeless pens with great personalities." - Visconti -
Contact our team for more details on the Visconti range.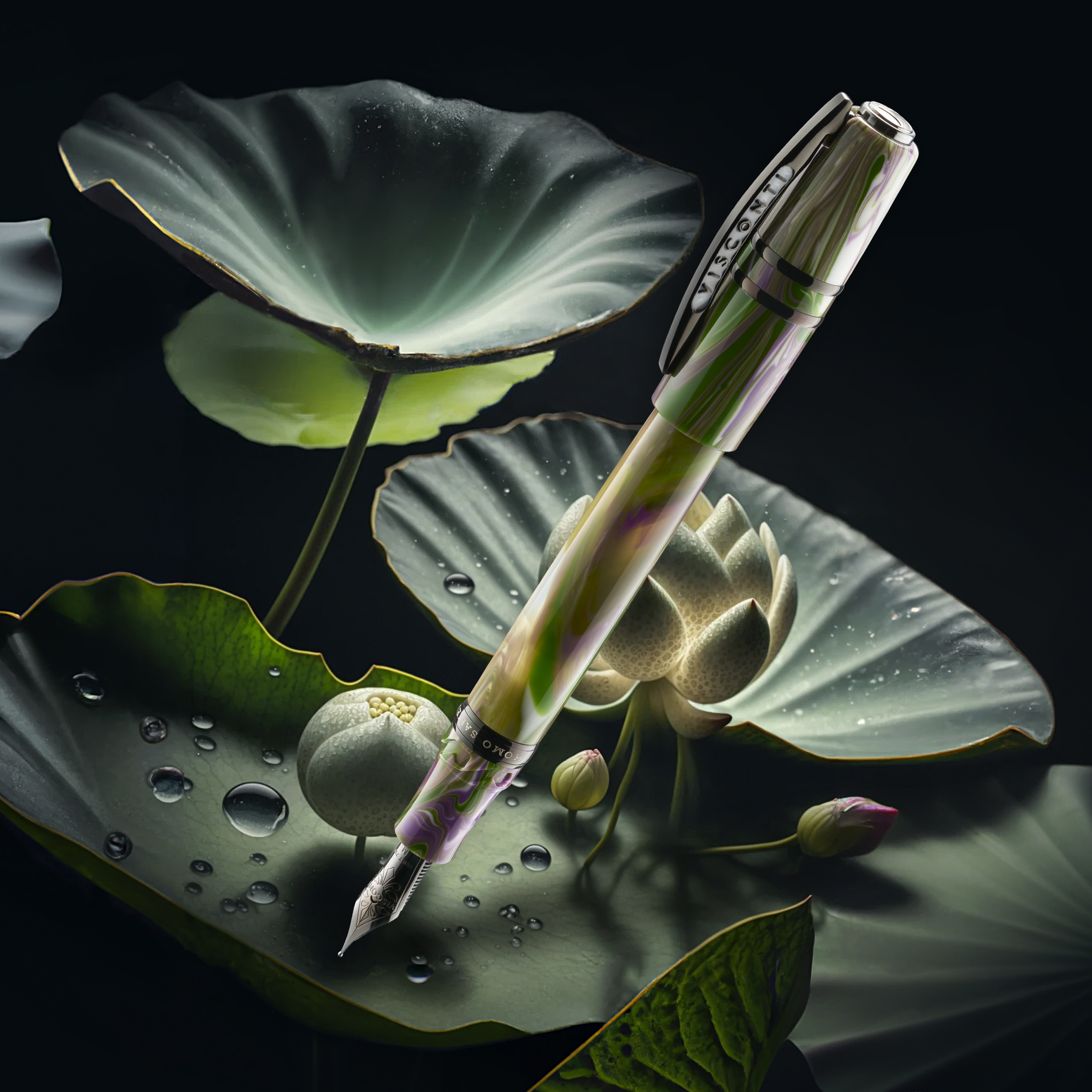 Industry experts since 1856
VISCONTI PENS
Visconti's writing instruments are perhaps for which they are best known. Pushing the boundaries of innovation whilst combining rich history and long standing traditions; to create truly luxurious writing instruments for pen enthusiasts and collector's alike.
Each pen is designed by an in-house team of pen experts. Capturing the brand values of Visconti with a creative flair and craftsmanship synonymous with Visconti. Combining the origins, history and inspiration is at the heart of every Visconti pen. The unmistakable 'Ponte Vecchio' clip is a beautiful addition to Visconti fountain pens depicting Florentine inspiration with beautiful detail and unwavering functionality.
Whether you are looking for a traditional fountain pen, rollerball pen or ballpoint pen – Visconti have them all. Visconti range out their fountain pen collections in a variation of nib widths to include; extra fine, fine, medium, broad and stub.  Each collection is carefully designed by Visconti with a price point reflective of the materials used, design and luxurious trim details. With Visconti it really is all in the detail. Contact our team
THE VISCONTI COLLECTION 2023
HOMO SAPIENS ARIZONA SUNSET
Introducing Arizona Sunset from the revered Homo Sapiens collection by Visconti. Arizona depicts the stunning colours of the Arizona desert and the majestic landscape of the Grand Canyon.  
DIVINA MATTE
Fabrizio Caramagna once said 'black has more shades than any other colour.' It is of course true when you experience Visconti's beautiful black Divina Matte fountain pen by the iconic italian pen design house.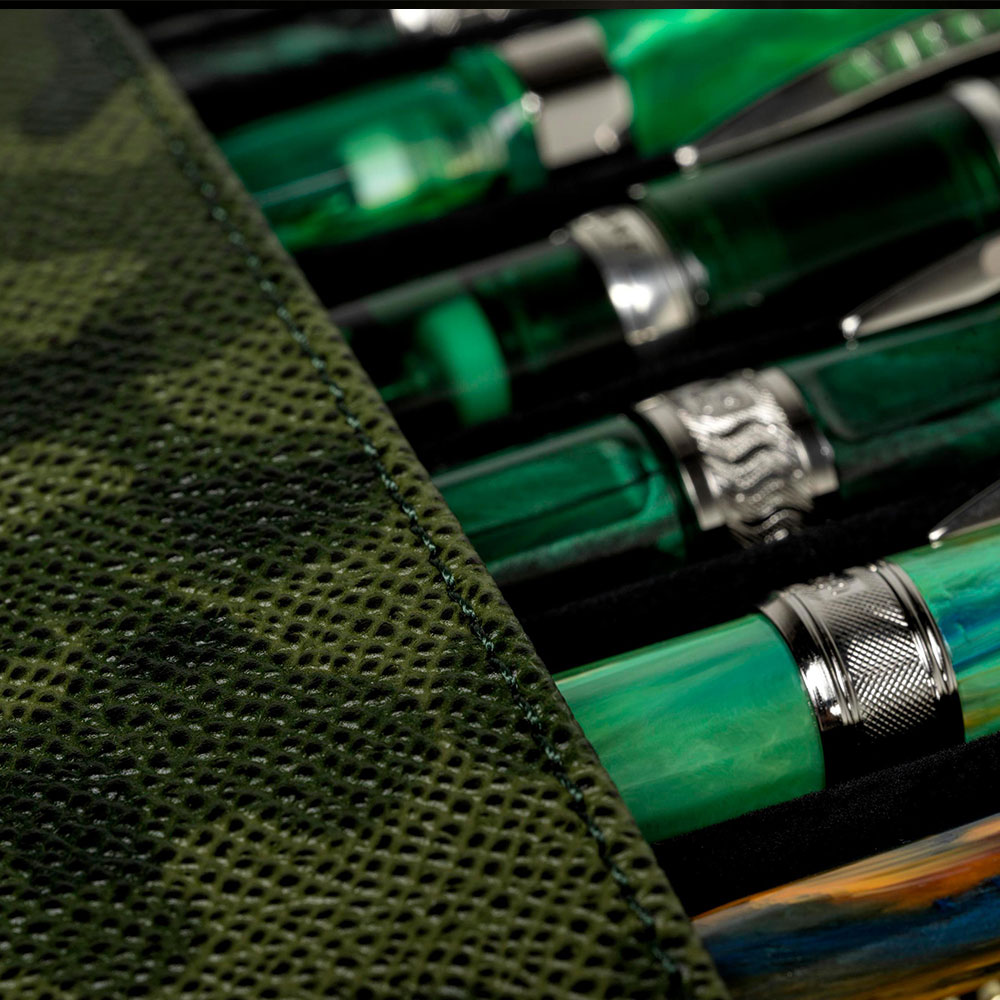 VSCT Leather
VSCT Collection is the name given to Visconti's Leather Collection. The luxurious leather collection by Visconti is 100% made in Italy and of exceptional quality and elegant design.
Made from premium boarded cowhide leather as well as water resistant and scratchproof means the collection is highly durable. Designed with both aesthetic and functionality the Leather collection is a beautiful addition to any Visconti pen collection. A zip puller inspired by Visconti's Gold Nibs, opens the cases to reveal carefully selected interiors that have been chosen for functionality and design that are easy-to-clean and house precious pens and objects.
"With the acronym VSCT, the brand aims to introduce a new concept of accessories characterised by high quality materials, modern shapes and colours, enhanced by the 'V' logo of the brand Visconti. VSCT handcrafted products combine excellence with a distinctive style, completing the world of Visconti writing instruments." – Visconti -
VISCONTI INK
Visconti's newest ink lines include the Glass Inkwell range for 2022 which followed the Van Gogh Cafe Terrace range the previous year. Try the ink well products with any number of Visconti's Piston Filler pens for a fun user experience that every pen enthusiast will enjoy.
Visconti Inks are extensive and are avilable in a wide range of colours, cartridges or as bottles that can be decanted using their inkwell travel system for writers on-the-move.
For Visconti Fountain Pen enthusiasts the diverse range of inks are fabulous for collectors of Visconti Fountain Pens.  
For more information on the range of Visconti inks contact our team for more details.