DIPLOMAT
Made in Germany, Diplomat's writing instruments are of exceptional quality. Each pen is carefully designed and crafted in-house with each pen quality checked, resulting in a beautifully reliable writing experience. 
Established in 1922, in Saxony, Germany, Diplomat focus on bringing exceptional writing instruments to the market. Diplomat's desire to create connections drives their designs, linking people to each other, to their emotions, thoughts, surroundings and of course to writing. Diplomat strive to provide timeless writing pieces that can be used through generations.
Diplomat offer a range of fountain, ballpoint and rollerball pens alongside mechanical pencils to meet all writing needs. Diplomat fountain pens are available in a number of nib grades including: Extra Fine, Fine, Medium and Broad. As part of their ballpoint range Diplomat also offer EasyFlow, an ink refill with a hybrid oil and gel ink and a stainless steel tip. This technology ensures a smoother flow of ink, requiring less pressure and gliding across paper. Every pen is a careful blend of science and art in keeping with the high standards associated with German design.
Industry experts since 1856

DIPLOMAT ELOX GREY ORANGE
Launching the Diplomat Elox in grey orange. A wonderful colour scheme for pen lovers everywhere. The new colour in the Elox range features a grey body with orange rings for a futuristic design and with high-quality aluminum body that is double anodized by a complex process and thus receives its unique appearance.
DIPLOMAT NEXUS GREEN IN GOLD & CHROME
The latest writing instrument from Diplomat, the Nexus, now available in Green and Gold, and Green and Chrome. The Nexus is a stunning design by Diplomat, merging technical innovation and ergonomic design, hence the name Nexus. Diplomat's Nexus refillable piston system, has a capacity of more than 7 ink cartridges and promises long-lasting writing pleasure.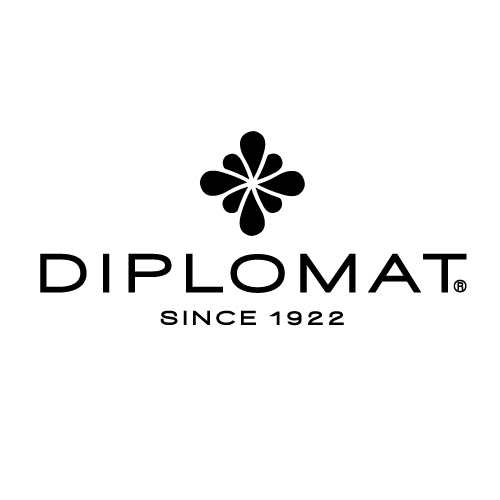 BECOME A DIPLOMAT STOCKIST
If you're interested in our Diplomat collection and would like to become a stockist then please contact our team for more details.
DIPLOMAT ELOX MATRIX ORANGE
Introducing another new colour for Diplomat Elox Matrix, now available in Orange. Crafted with inspiration from the bestselling Aero collection, the Elox Matrix's smooth shape and satisfying click of the cap offer a delightful writing experience. The horizontal anodized orange aluminum rings add a pop of color and further elevate the overall look of the pen. 
DIPLOMAT NEXUS 
Based on piston technology, combining it with a new patented sealing system by closing the cap, Nexus combines the best of yesterday and tomorrow. No more risk of running out of fuel; no more cartridges and their plastic packaging. Thanks to its unique characteristics - proven seal, no risk of leakage even on an airplane, large ink capacity.
DIPLOMAT AERO 
Inspired by aeronautical design, Diplomat's Aero fountain pen is an impeccable feat of engineering inspired by the unmistakable shape of the 1900 Zeppelin airship. Available in a range of colours with uninterrupted lines and tapered form. Now available in a NEW white colourway and finished using brand new technology of 'hot lacquering'.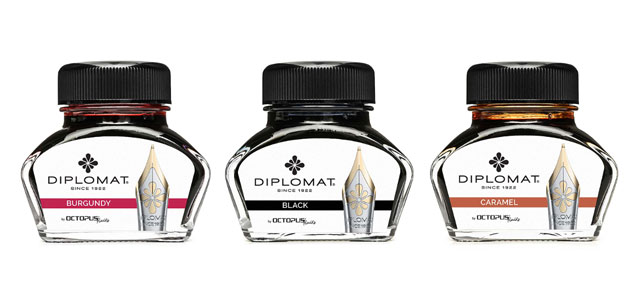 DIPLOMAT INK & ACCESORIES
A lovely selection of ink colours to choose from. Housed in a perfectly designed bottle for ink convertor use. Also available from Diplomat are the refills for their roller ball and ballpoint ranges. Explore the complete range via the Diplomat brochure link below.