Meet our latest Artist of the Month...Akhilesh Narayana, aka ak_atomwrites. A Mechanical Engineer by day, and a calligrapher by night! Introduced to the world of calligraphy in 2018, Akhilesh has not looked back since. Read on to find out more...
What is your background and when did your passion for Calligraphy and Lettering begin?
Professionally I am a Mechanical Engineer and Lecturer, teaching Drawing and Design subjects. I chose the subject for my love of lettering as a specialist subject in Engineering.
Coming to my passion it started in 2009 when I was working on title designs and lettering projects for my own portfolio and friends. This was stepped ahead and I have designed customized names for tattoos for my friends and others. At this point I still had no idea about the world of Calligraphy until November 2018 when a friend introduced me to a selection of calligraphy pens and ink. From that point started the baby steps of my calligraphy journey.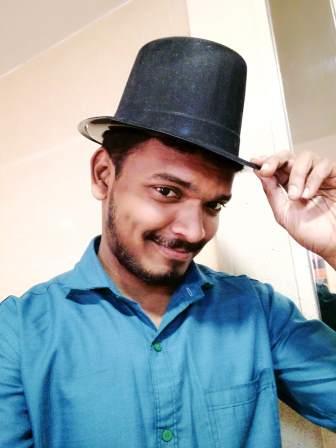 Who / Where do you take your inspiration from?
I have been inspired by many calligraphers during my journey. When I just started out I was followed (and continue to follow) these great calligraphers:
Paul Antonio Attong @pascribe
Sachin Shah @sachinspiration
John Stevens @calligraphile
What in your opinion is the hardest and the most rewarding parts of working in a creative industry?
For me, the hardest part is to raise awareness of my brand and become a calligrapher in such locality where is very little interest for Calligraphy. Being consistent towards my passion is challenging when faced with hurdles and lack of understanding for my art. However, I continue to work to raise awareness and educate people on the art of writing. 
On the flip side, the most rewarding thing is seeing your own progress from the day you started and that helps you to stand proudly among the artists who you have admired since the start of your journey.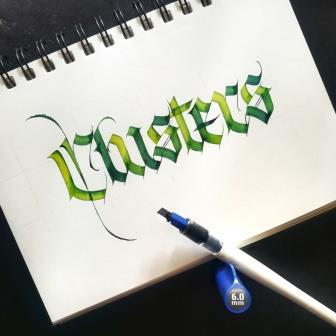 Do you have a favourite style?
In the beginning I was very much interested in pointed pen styles, Copperplate in particular. Following that broad pens grabbed my attention and I fell in love with Italic Calligraphy. I also enjoy Fraktur styles and practice these quite often. 
What are the most exciting projects you have worked on and what are you working on at the moment?
The most exciting project I have worked on was with an American client who wanted some logo designs in my bespoke script (fraktur calligraphy). It was a great feeling that someone apprecaited my style of calligraphy and wanted a customised piece. As the pandemic hit it was difficult to take on bespoke commisions due to not meeting up with clients. To counter this I am now teaching this beautiful art to the enthusiasts by conducting workshops and private classes online. 
How does your work relate to your everyday life?
I do practice two to three hours everyday. Practising calligraphy is a therapeutic process for me as I share my emotions through my writing, it calms me down especially when I am working on large scale or lengthy content pieces. Completing the project gives me a great sense of satisfaction and the feelings and emotions of achieving something and creating something so unique really does bring a smile on my face.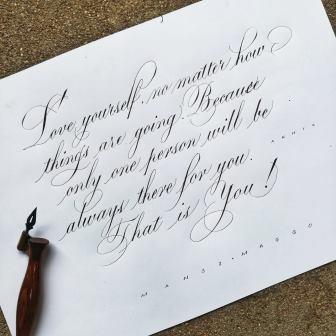 What are your favourite tools to use?
I love to use dip pens and the process of dipping your nib in ink and working with paper and sensing such beautiful bond between them is great feeling for me. My next go to are my pilot parallel pens, followed by brush pens.
What would your advice be to people new to the creative industry and any tips on how to get started?
There is no better advice than to keep on writing and to find a particular script which you love. This is very important as you need to ensure you find a style that you love as this will become your daily companion. 
Just pick up a pen and start writing! Don't compare your work with anyone else just compare yourself to yesterday and the start of your journey. Overtime you will see significant betterment in your work and then the motivation to stay focused and improve will come. Calligraphy is a great wellness exercise too as it helps you become calm and improves patience and improves your concentration on day to day activities.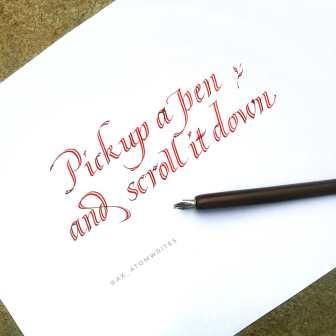 To see more of Akhilesh's work you can follow him on Instagram. Remember to follow @manuscriptpenco on Social Media where we will be showcasing his work throughout the month.