Meet our final Artist of the Month for 2020...Hideya Moto. Hideya is a freelance calligrapher from Japan who has been actively practicing calligraphy since 2015. Initially inspired by Japanese calligraphy during elementary school, he took a break but his love for letters was resurrected! We had an exclusive chat with him to find out all about his creative journey. Read more...
What is your background and when did your passion for Calligraphy and Lettering begin?
My name is Hideya Moto, a Japanese calligrapher working under @moto.lettering on Instagram. Currently I am a freelance calligrapher. The reason why I began Calligraphy and Lettering is because I was inspired by handwriting videos and photos on social media around 2015. Before that, I had sometimes posted Japanese Calligraphy on Instagram.
When I was an elementary school student, I got took an interest in Calligraphy as I took a Japanese Calligraphy class (Once a week). Although I quit taking my Japanese Calligraphy class after graduating from elementary school, I have loved letters ever since. It is fortunate that I am in this social media era and see awesome artworks and people practicing calligraphy and lettering anytime.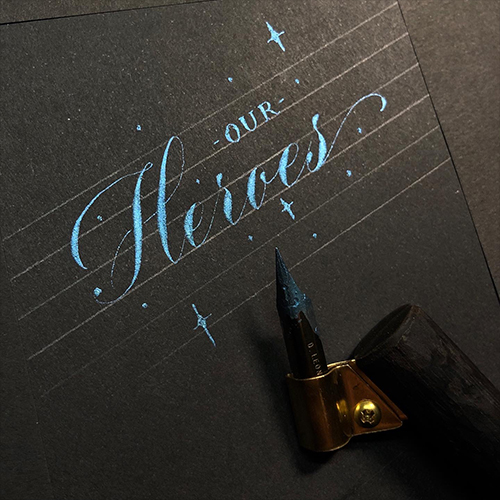 Who / Where do you take your inspiration from?
I have been learning Calligraphy and Lettering from many artists online
I also take inspiration from sign boards and packaging designs.
What in your opinion is the hardest and the most rewarding parts of working in a creative industry?
There are three key rewards for me. The first is when I see my clients are  satisfied with my work. It brings me joy when I receive messages of appreciation from them.
The second is when my works are published and go on sale both online and offline. I always keep check of this and when possible I will try and go to see this in person.
The third is when I receive messages from people who get products related to my work. It is really valuable that I am able to build relationships with people through my work in the creative industry.
The hardest part is the difficult to get offers for work from clients in Japan. Although handwritten letters are growing in popularity, I do hope the demand and recognition for bespoke calligraphy work does increase. If people who find handwriten work attractive increase, handwritten letters would become more popular in the commercial/PR industry.
It is all about building your brand and for me, I will continue to improve my skills and brand myself enough to get offers from all over the world.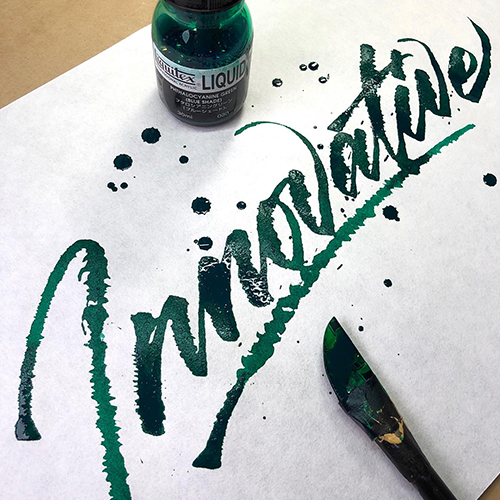 Do you have a favourite style?
Yes, my favourite style is Swoosh with pointed brush pens because I like the stroke forms and textures of each stroke. Also, I like Copperplate with pointed nibs and pointed brush pens.
What are the most exciting projects you have worked on and what are you working on at the moment?
One of the most exciting projects I have worked on was a Calligraphy service for a Nespresso PR event for five days at the beginning of 2020. As one way to attract customers, I wrote their guests and visitors names, as well as favourite words on leather coasters with my Calligraphy friends.
You can view more at the links below:
How does your work relate to your everyday life?
As the letters are everywhere in society, I like to review and analyse them (especially handwritten ones) on posters, menus, signs and other things. They always inspire me to learn something new.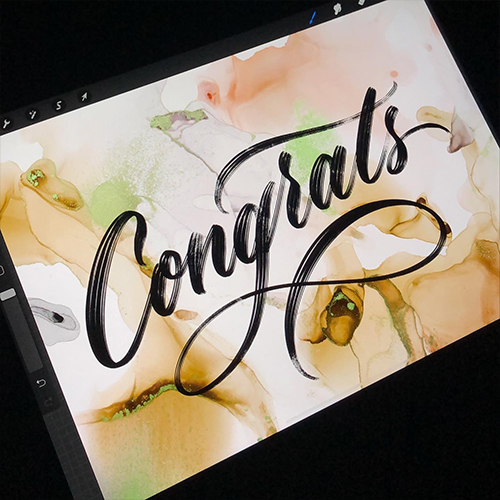 What are your favourite tools to use?
I like pointed brush pens and pointed nibs. A few of my favourites are listed below:
Nikko G
Tombow Fudenosuke Hard-tip
What would your advice be to people new to the creative industry and any tips on how to get started?
I would say start by getting work from your friends and acquaintances in order to get clients to commission you and post your work on Instagram as much as possible.
For your accomplishment, I think you could take offers from friends and acquaintances much easier compared to companies you have never been involved with. Even if it is at a reduced price, you should do the work if you want to do it.
In my case, almost all of my work is done through Instagram. People find me on Instagram and message me, and even people I meet offline will view my account and enquire about bespoke work. Your Instagram account could work as your portfolio.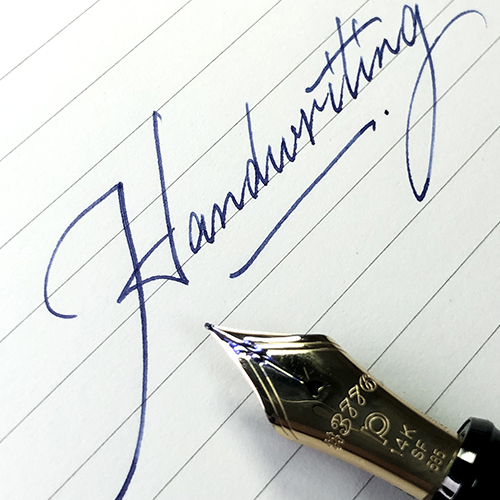 To see more of Hideya's work you can follow him on Instagram and remember to follow @manuscriptpenco on Social Media where we will be showcasing his work throughout the month.