Meet our latest Artist of the Month...Fatme Mustafa, the face behind Elen Calligraphy. With a background in Interior Design, Fatme first picked up a calligraphy set (Manuscript's Student Artist Set) in 2019 and hasn't looked back since! Read on to find out more...
What is your background and when did your passion for Calligraphy and Lettering begin?
 My background is art related, I am Interior Designer. My passion for calligraphy started in 2019 when I first bought the Student Artist Set in Selection Box from Manuscript, selection of nibs and a bottle of ink, then I knew this new hobby of mine would last for a long period of time. I was working full time at that time and hardly have such spare time to practice. During the first national lockdown, I started practicing regularly and had the opportunity to research properly. Since then I never looked back.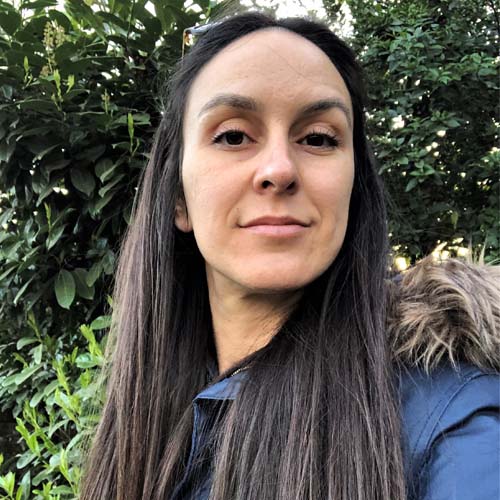 Who / Where do you take your inspiration from?
 My biggest hobby is collecting and researching old books. I have a selection of rare calligraphy books which I am collecting from different platforms. I find very interesting articles and useful information there. It is good to keep the old tradition alive and takes inspiration from work from the past. 
What in your opinion is the hardest and the most rewarding parts of working in a creative industry?
 The hardest part is the endless hours behind the scenes, a lot of demos which are going straight to the bin. Piles with paperwork and people are seeing hardly 10% from our creative work. Working in a creative industry is like a giant iceberg, people will see the only successful part of it. But the great reward is to make a difference in somebody's life. We all live in such difficult days, what we have been through is just an example that we should support each other. I have seen so much support in this creative business since I started calligraphy last year.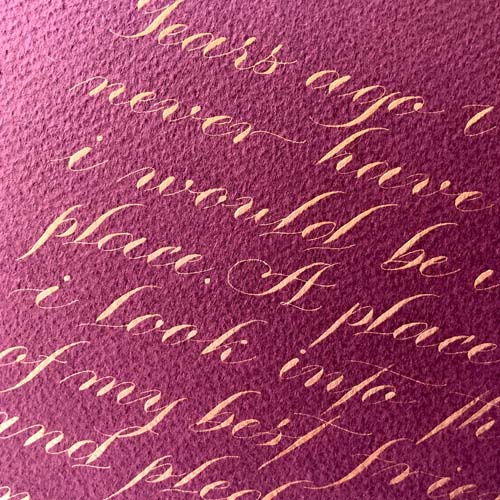 Do you have a favourite style?
Although I do a fair bit of brush calligraphy, my heart belongs to nib and ink. The flow of the ink down the tines, and the fact that it's a slow craft helps with mindfulness and switching off. Although I started learning copperplate, I have moved onto a more modern calligraphy style, where I can add my own flair.
What are the most exciting projects you have worked on and what are you working on at the moment?
My favourite style is Copperplate Calligraphy Variations which is a slightly more relaxed form of the original Copperplate Script. Calligraphy is a journey through my life in which I am experimenting with all possibilities. For now I am at a stage where I can say I found my Calligraphy style and I am comfortable.
How does your work relate to your everyday life?
I don't see it as work. It is part of my life now. Year ago I was dreaming of something I will never get bored of. It is my passion and meditation. Seriously, even on a busy day a quick 15 minute practice with a dip pen is a great meditation. It helps me to clear my head and focus on what I need to do.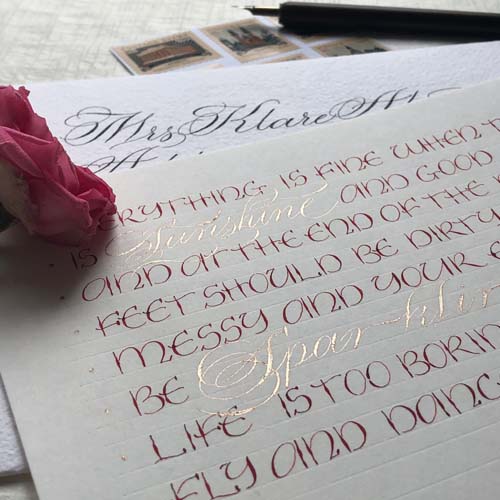 What are your favourite tools to use?
I can't think of a world without Leonardt EF Principal, call me mad but the sound of a scratchy nib is my favourite music to ears. Also my favourite tool is an oblique pen holder which is number one priority for my Copperplate Calligraphy Variations Style and a quality Ink is always on my table.
What would your advice be to people new to the creative industry and any tips on how to get started?
 My advice is no matter what, do not hesitate to start your journey and be always brave to ask questions to yourself. Stick to the rule one stroke at a time.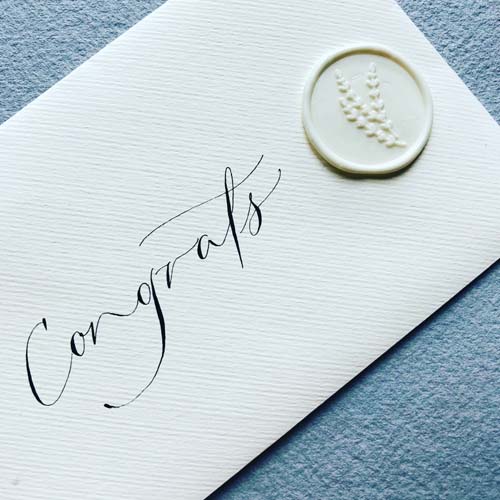 To see more of Fatme's work you can follow her on Instagram or learn more about her and view her work or visit her website: www.elencalligraphy.com. Remember to follow @manuscriptpenco on Social Media where we will be showcasing her work throughout the month.