PRESS RELEASE 
Manuscript Brands say 'Ciao' to New Italian range Campo Marzio
Manuscript Brands has been selected as the UK Distributor of stylish Italian brand Campo Marzio based in Rome.
Featuring on-trend writing instruments and accessories, the Campo Marzio Collection offers a contemporary feel with bold vibrant colours and the kind of elegance and class you would expect from an Italian product.
Founded in Rome in 1933, Campo Marzio has been creating stationery and accessories for nearly a century. Campo Marzio has extended its collection to the UK Market offering a beautiful and affordable collection of writing instruments, stylishly packaged in Campo Marzio's bold colour palette.
Charlie Stockbridge, managing director at Manuscript Pen Company, said: 'We are delighted to be working with Campo Marzio, a fabulous range that will fit seamlessly into our current portfolio of products. The vision of the brand is 'to make every moment of the day extraordinary' and this collection certainly lends itself to that ethos.
'The extended Campo Marzio collection can currently be found at the flagship store in Piccadilly, London and we look forward to bringing the stationery and accessories range to market across the UK.'
Campo Marzio's range includes pen holders, notebooks, desk pads and pencil cases with the pen collection extending to ballpoint pens, roller pens, calligraphy pens and fountain pens. All featuring an innovative modern flair that showcases the virtuosity of Italian design.
Click here for more information on the Campo Marzio collection or Contact our Team for more details.  
January 2022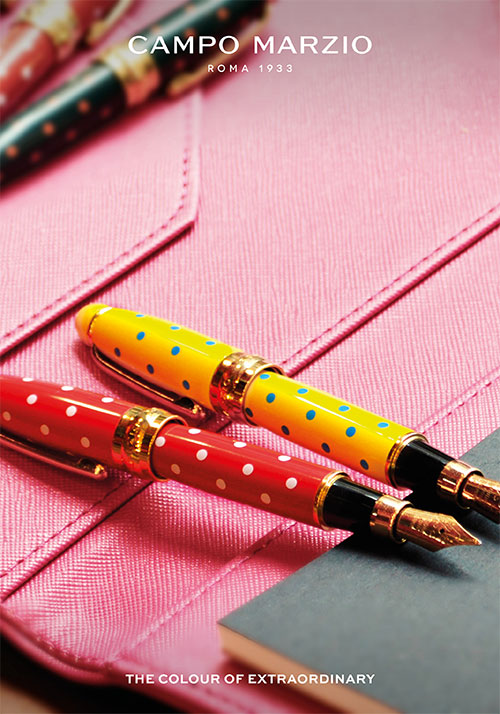 PEN COLLECTION
Discover Campo Marzio's Pen Collection. With bold and vibrant designs, Campo Marzio offers a range of typically bold pen colours in fountain, roller and ball point.
BECOME A STOCKIST OF CAMPO MARZIO 
If you're intersted in our Campo Marzio Collection and would like to become a stockist then please contact our team for more details.
PEN HOLDERS & NOTEBOOK COLLECTION
Available in a variety of sizes and varying classic bold colours synonymous with Campo Marzio. All available from Manuscript Pen Company in the UK.
Industry experts since 1856