PRESS RELEASE 
Manuscript Brands extends portfolio with iconic Sheaffer brand
Manuscript Pen Company is once again bolstering an ever-growing luxury stationery collection with a new appointment to their carefully selected existing product portfolio, as they have been appointed UK and Ireland distributor for Sheaffer.
The story of Sheaffer began over 100 years ago with a big idea from a visionary thinker. Walter Sheaffer, a skilled jeweller by trade, had an eye for detail and a mind for invention. In the small back room of his father's Iowa jewellery store, Sheaffer developed and patented a revolutionary fountain pen that improved the writing experience for pen users. After more than 100 years, Sheaffer continues to deliver a unique writing experience for pen enthusiasts. The legendary White Dot designed into every Sheaffer pen is an enduring symbol of quality, prestige and performance and features in every model today.
The range boasts the iconic Sheaffer 100, Sheaffer 300, Sheaffer VFM and Sheaffer's sought after refills. Sheaffer have always been dedicated to improving the writing experience. Demonstrating an elegant and modern style of fine writing instrument; Sheaffer pens provide a welcome escape to the hectic pace of modern life, whilst its luxury finishes characterize a collection inspired by the experience and pure enjoyment of the act of writing itself.
Charlie Stockbridge, managing director at Manuscript Pen Company, said: "We are really excited to be appointed as exclusive distributor for Sheaffer. Adding this innovative brand, with a long illustrious history, to our current portfolio is a fantastic opportunity and great fit for us, and we look forward to bringing these iconic products to market.
"We have been supplying pioneering and luxurious stationery products for decades and we have a strong foothold with our current portfolio which is seeing a rapid rise in popularity. We believe the Sheaffer range will complement this market as well as attract a whole new legion of stationery fans. We have some stocks arriving this side of Christmas, with the chosen product range expected to follow early 2023."
Click here for further information about the Sheaffer range or to become a stockist and add to your collection contact a member of our team.
OCTOBER 2022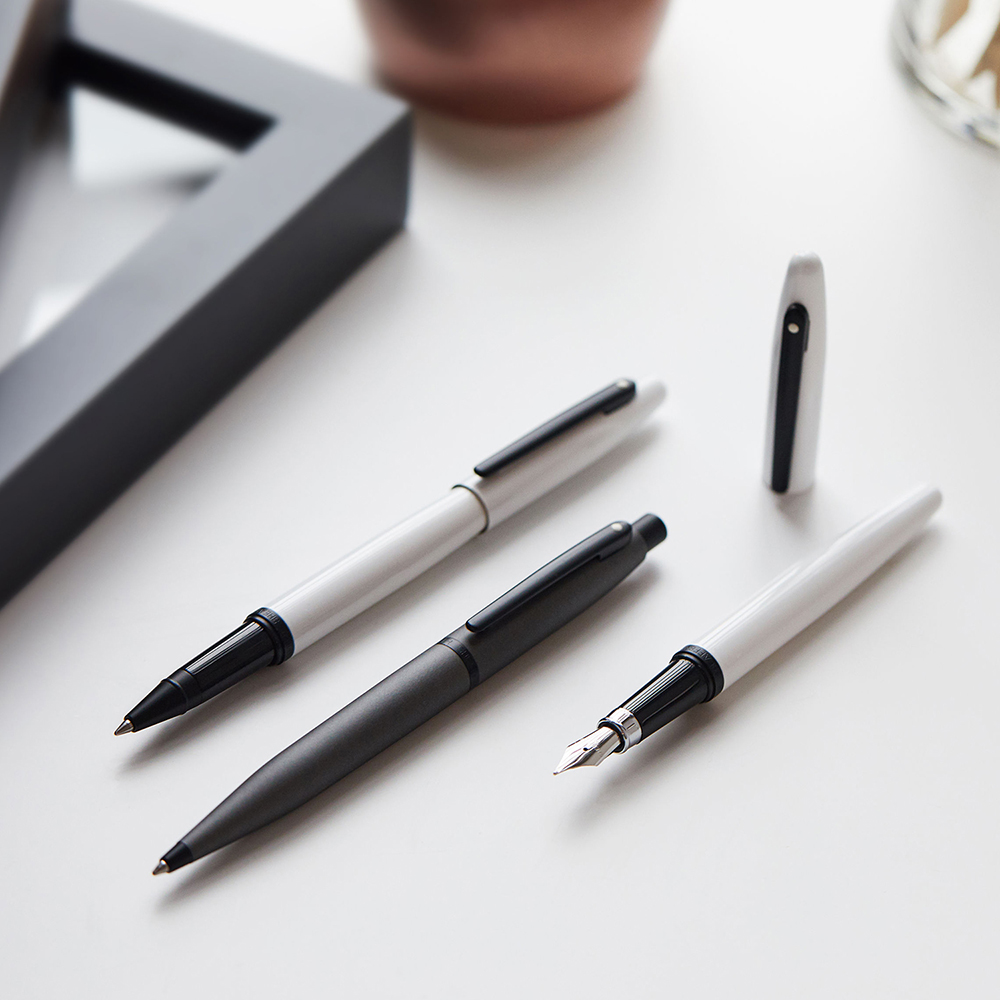 Sheaffer® 100 Collection
The Sheaffer® 100 makes a great gift for celebrating an occasion or kicking off a new chapter. With its modern design, timeless finish options, and balanced feel, it is the perfect tool for letting ideas flow effortlessly onto the page.
BECOME A STOCKIST OF SHEAFFER 
As the exclusive UK Distributors of Sheaffer pen collections - contact our team to add any newness to your store or to become a Sheaffer stockist.
Sheaffer® 300 Collection
Sheaffer® 300 makes its presence known with a commanding, structured profile and excellence in writing performance. A bit of a maverick, 300 boldly bridges the worlds of the traditional and the unexpected.
Industry experts since 1856