PRESS RELEASE 
Manuscript Brands Partners with artPOP! as New Distributor
Manuscript Pen Company Ltd is expanding their brand portfolio with the addition of artPOP! as the new UK and Ireland distributor. This appointment bolsters their carefully selected existing product portfolio.
artPOP! is a fresh, modern art brand that features bold, clean lines and a signature colour scheme of magenta. With artPOP!, users can create works of art that are truly unique. The brand offers a wide range of art products, including infinity markers, paints, pencils, brushes and more. artPOP! products are all housed in design-led packaging that sets this brand apart on the shelf!
"We are proud to be able to bring artPOP! products to the UK market as a great addition to our portfolio," said Manuscript Pen Company Managing Director, Charlie Stockbridge.
"With artPOP!, artists will be inspired to continue on their creative journeys. The high-quality art supplies, vibrant colours, and thoughtfully curated sets are perfect for encouraging customers to have fun with their art. With artPOP!, they will have the tools they need to create with confidence."
From playing with paints or experimenting with colours, to discovering the possibility with pens and pencils, the point is to have fun. Whether it's dabbling, doodling, starting, or re-starting a creative journey, artPOP! provides the tools needed to jump into action boldly!
Click here for more information about artPOP! or Contact our Team for more details.  
January 2023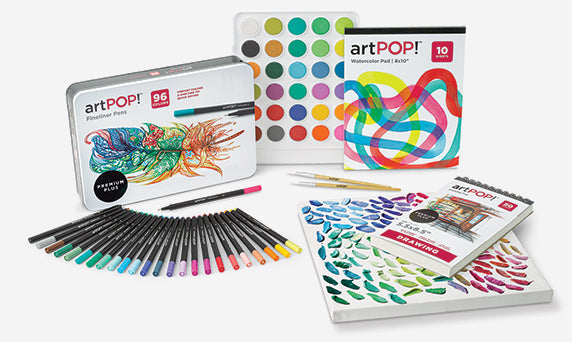 DRAWING & ILLUSTRATION
Go on and sketch it up! Take your drawings and illustrations to dramatic new heights with the collection from artPOP!
BECOME A STOCKIST OF ARTPOP! 
artPOP! Stationery distributed by Manuscript Pen Company. Contact us for more information on the artPOP! collection.
CRAFTING SUPPLIES
Excellent for school projects, design thinking activities, playdate crafts, scrapbooking, and more. The possibilities are endless!
Industry experts since 1856