CENTROPEN
Centropen are one of the leading manufacturers of writing and drawing supplies. Based in the Czech Republic they have been manufacturing high quality, innovative writing instruments since 1940. 
During the past 80 years they have supplied writing tools for individuals from childhood through to adulthood. Whether it's a childs first colouring pen, a school handwriter or a highlighter to use in the office, Centropen pride themse on supplying high quality products at affordable prices.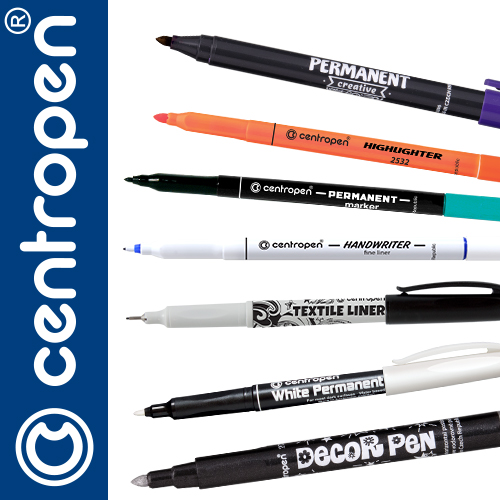 Industry experts since 1856
CENTROPEN
Centropen have been manufacturing innovative products since 1940. The company portfolio not only contains traditional markers, which are very popular with customers, but also a whole range of professional and
creative products for business and domestic use.
Through constant development they anticipate the needs of the customer with the aim of making writing easier and more comfortable. Today, writing supplies are not only a tool for capturing words on a piece of paper, but also a method of expressing your imagination. In addition to everyday stationery they set the benchmark in the manufacturing of creative art supplies.